27 février 2011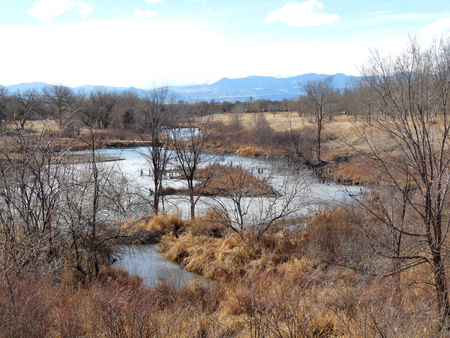 Denver est une ville étendue et elle possède de nombreux chemins de randonnée, dont celui qui longe ce ruisseau et qui s'appelle "Sand creek". Comme son nom l'indique il est sablonneux et la faune qui y vit est assez riche et parfois sauvage. C'est un beau parcours pour s'aérer le WE, même si les couleurs sont encore hivernales.
Denver is a spread out city and has many trails. This one is called "Sand creek trail" and the land is still mostly in its natural state and consists of meadows interspersed with stands of cottonwoods. Sand Creek flows in a deep gulch south of the trail but is accessible on several footpaths that descend into the creek gully. Paradise for wildlife, it's a nice walk on the WE, even if colors are still dull and wintry.
10 février 2011
Aujourd'hui, à l'école, c'était le "jour du pyjama". J'entends d'ici les réactions d'étonnement de mes compatriotes européens car je pense n'avoir jamais entendu ce genre d'expression en France. Toujours est-il qu'ici les enfants de l'école (et des différentes écoles de Denver) étaient invités à venir en classe en pyjama (avec des collants et des sous-pulls car les températures sont toujours négatives). Profs et membres du personnel étaient pour la plupart également en pyjama...l'idée : amuser les enfants et récolter des fonds pour une association caritative destinée à venir en aide aux sans-abris.
Today was Pajama Day at school. I can hear my European compatriots' reaction since I've never heard about this kind of Pajama Day in France. However, here in Denver, kids were invited to come to school with their pajama (and tights and turtlenecks because temperatures are still very cold). Teachers and staff were also wearing their pj...the idea : to have fun with kids and to collect money for the Denver's Road Home, part of the Mayor's initiative to end homelessness in Denver.
04 février 2011
Mille pardons...plus d'un mois sans billet...un emploi surchargé a eu raison de ma régularité.
Voici, en ces temps de neige et de glace (-23°C avant hier) une photo de circonstance, même si elle date de la période de Noël (cf les décos). Un magasin de crèmes glacées, appelé "Little man ice cream". La boutique est amusante avec sa forme de pot à lait...et les glaces y sont délicieuses.
A bientôt!...promis ;-)
So sorry...over one month without posting...a very busy schedule got the better of me.
In this time of snow and ice (-13°F two days ago), here is an appropriate picture. An ice cream shop, called "little man ice cream"...It is quite funny with its milk jug shape...and ice creams there are delicious.
See you soon...promised ;-)
29 décembre 2010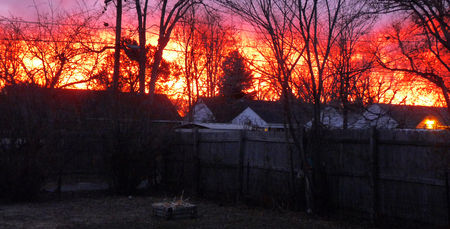 Je me souviens vous avoir dit il y a quelques mois que les ciels du Colorado étaient souvent spectaculaires. Un bon exemple ce matin, à l'aube...on aurait dit qu'un feu s'était déclaré à l'horizon...cela n'a duré que quelques minutes...juste le temps pour moi d'enfiler des bottes et de me précipiter dehors encore en pyjama,mon appareil de photo en bandoulière et mon chat noir sur les talons. J'imagine la réaction des voisins (ceux qui étaient réveillés à cette heure matinale), derrière leurs fenêtres : ces Frenchies ont vraiment de drôles d'habitudes ;-)!
I remember I already told you a few months ago about the spectacular skies in Colorado. Here is another good example, this morning at dawn...it looked like there was a fire on the horizon...it only lasted a few minutes and I had to rush outside, still wearing my pajamas, with my camera and my black cat hot on the heels. I can guess what my neighbors thought (at least those who were already awake and behind their windows) : I'm telling you...those Frenchies ;-)!
La lueur se reflétant sur les bâtiments de l'université Johnson and Wales (université hôtelière). Les fenêtres n'ayant pas de volets, j'imagine le réveil des étudiants...
The glow reflecting in the buildings of Johnson and Wales University (hospitality, culinary arts). The windows have no shutters and I can imagine the rousing start of the day for the students.
24 décembre 2010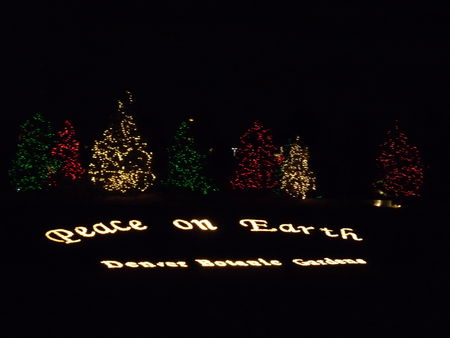 Joyeux Noël à vous tous qui passez virtuellement par Denver !
Merry Christmas to you who are virtually passing by Denver !
20 décembre 2010
Contrairement au temps hivernal que vous avez en ce moment en Europe, nous avons au Colorado un hiver extêmement sec. J'ai même du arroser hier les deux arbres devant la maison. Il y a bien sûr de la neige dans les Rocheuses, mais en plaine (Denver est tout de même à 1600 m d'altitude, mais c'est la plaine) il fait sec et presque chaud (13°C aujourd'hui). Alors, ce n'est pas étonnant de voir les arbres fleurir...non je plaisante, c'est seulement un trompe-l'oeil!
Unlike the wintry weather you are having in Europe, we are having a very dry season in Colorado. I even had to water the two trees in front of the house. Of course, there is snow in the Rockies, but in the plains (we could say Denver is in the plains even if it's one mile high), the weather is dry and sometimes warm (we had 54°F today). So no wonder trees are blooming...no, I'm joking, it's only a trompe-l'oeil!
16 décembre 2010
Même si nous avons commencé à en voir dans les supermarchés dès Thanksgiving, c'est la saison du lait de poule!!! les Américains en sont friands et on le trouve décliné en plusieurs parfums : à la citrouille, au pain d'épice, à la cannelle et à la noix de muscade, façon traditionnelle, au cookie...Lait, jaune d'oeuf, crème, sucre...parfois agrémenté de rhum, de bourbon, de whisky...c'est bon, c'est onctueux, c'est riche en calories ;-)
Je crois me souvenir que ma grand-mère en faisait parfois; je ne suis pas certaine qu'on en trouve commercialié en France. Et dans vos pays respectifs?
Eeven if we started to find it in supermarkets around Thanksgiving, it is the season for eggnog!!! People here love it and you can buy it in with different flavours : pumpkin spice, gingerbread, with cinnamon or nutmeg, or sugar cookie...a sweetened dairy-based beverage, traditionally made with milk and/or cream, sugar, beaten eggs (which gives it a frothy texture)...sometimes you can add rum, brandy, bourbon or whisky...it is good, smooth and rich in calories ;-)
I think I remember my grandmother making some. I am not sure we can find it in stores in France. And what about your country?
14 décembre 2010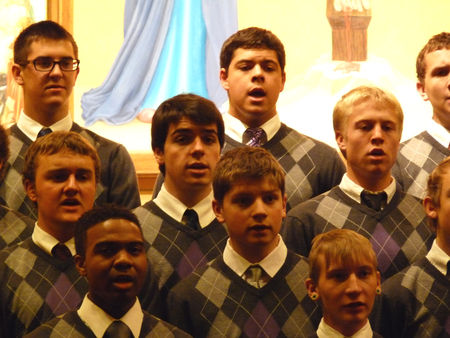 Une nouvelle photo d'une chorale de jeunes garçons du lycée Regis, chantant des chants de Noël.
Another picture of a choir of youg boys, performing Christmas carols at Regis school.
10 décembre 2010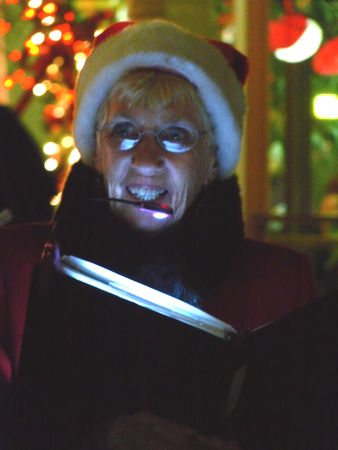 Mon Denver daily photo blog commence à ressembler à un weekly photo blog. Si je n'y prends pas garde, il se transformera sous peu en publication mensuelle!
Voici une photo prise lors de notre promenade nocturne dans les jardins botaniques. Une petite chorale offrait, dans une température glaciale, des chants de Noël traditionnels.
My Denver daily photo blog is starting to look like a weekly photo blog. If I don't watch out it will soon become a monthly blog!
Here is a picture taken during our recent evening walk in the botanic gardens. A little choral group was performing some traditional Christmas carols.
05 décembre 2010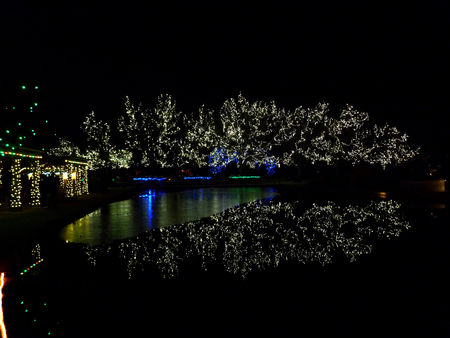 Hier, nous avons bravé le froid pour aller aux jardins botaniques de la ville qui offraient un beau spectacle de lumière! Plus d'1 million d'ampoules de différentes couleur pour nous faire plonger dans l'ambiance de Noël. Ma photo fait très pâle figure comparé à ce que mes yeux ont vu. Si vous voulez avoir une meilleure idée de l'ambiance, cliquez ici.
Yesterday we braved the cold to go to the Botanic Gardens which were presenting the Blossoms of light trail. Over one million colorful lights wre draping the trees. A very nicedive into the chrismassy atmosphere. My picture is very pale comparing to what my eyes saw. If you want to get a better idea, click here.